'Real Housewives' Stars Indicted on Fraud charges
November 19, 2013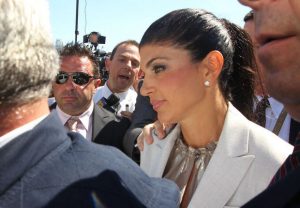 The Real Housewives of New Jersey just got a little more real as the infamous couple, Joe and Teresa Giudice, face additional fraud charges. Giuseppe "Joe" Giudice and wife Teresa Giudice, were both indicted Monday on one count of bank fraud and one count of loan application fraud, to which the couple pleads not-guilty.
According to authorities, the alleged couple prepared an application on their mortgage loan indicating Teresa Giudice was employed as a real estate agent bringing in $15,000 per month. The reality star got a reality check when authorities discovered she was not employed at all.
The charges from Monday will be added to the couples 39-count indictment from this past July. The Giudice's are charged with conspiracy to commit mail and wire fraud, bank fraud, making false statements on loan applications and bankruptcy fraud. The
This isn't the first time the star couple has been accused of fraud, Joe Giudice had allegedly failed to file tax returns from 2004 to 2008, a time during which he allegedly earned nearly $1 million.
The north Jersey residents, parents to four young daughters and known on the show for their lavish lifestyle and massive home, pleaded not guilty in July and are scheduled to be arraigned on the new charges Wednesday.
Teresa's lawyer, Henry Klingeman, commented on behalf of her "non-guilty" plead stating "she looks forward to defending herself at the trial, scheduled for February 24, 2014, beyond that, we will answer all of the charges in court, not out."
Authorities said the couple exaggerated their income while applying for loans before their TV show debuted in 2009, then hid their improving fortunes in a bankruptcy filing.
Prosecutors alleged in July the Giudices submitted fraudulent mortgage and other loan applications from 2001 to 2008, a year before their Bravo show debuted. The couple is alleged to have made phony claims about employment status and salaries and in some cases filed fake W-2 forms and tax returns.
Prosecutors said the couple received about $4.6 million in mortgages, withdrawals from home equity lines of credit and construction loans.
Are you a victim of fraud or money scam? Share your story with us on the Money Credit and You Facebook page!