Top Supermodel in Pakistan Charged with Money Laundering
April 6, 2015
Pakistan supermodel was recently charged with intent to illegally transport more than the legal $10,000 cash limit out of the country.
The 21-year old was caught in the VIP departure lounge of Benazir Bhutto International Airport with approximately $500,000 in her carry on bag. She has been housed in Adiala prison ever since.
RELATED: Former New Orleans Mayor Sentenced 10 Years for Bribery, Money Launderin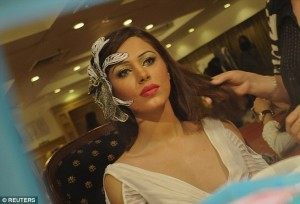 According to The Daily Mail, a customs official became suspicious after the model said she was given the money from a businessman who had connections in Pakistani politics.
Khurram Latifah Khosa, one of the lawyers assigned to Ali's case, says the model had no plans to transport the money out of the country, and that it came from a legitimate property sale.
Khosa claims she was waiting in the lounge for her brother to pick up the cash to take it to Karachi. She had yet to check into her flight.
Furthermore, Khosa believes Ali is being targeted by the press and courts because of her celebrity status.
RELATED: The World's Highest-Paid Models of 2014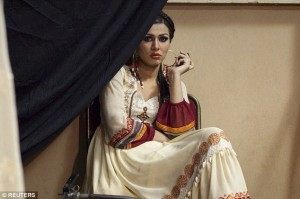 "We respect religious scholars, we respect so-called intellectuals but why don't we respect in this society people who are promoting our culture?" he asked. "She is a cultural ambassador projecting an image of Pakistan which is liberal, progressive and can compete with anyone in the world."
Several figures in Pakistan's fashion industry speculate she was manipulated into carrying the money.
"My first reaction was there goes one more girl. A lot of these girls come from very protected families and can be very naïve. I think of her as a victim," said grand dame of the fashion world, Maheen Khan.
Ali has acted as a brand ambassador in advertisements promoting everything from mobile phones to ice cream. Most recently, she has been one of the most famous faces at Pakistan Fashion Week.
Sardar Ishaq, another attorney working on the case, is reportedly outraged over the living conditions of his client.
RELATED: 7 Habits of The World's Richest People
"She is living with ordinary criminals-ladies involved in murder cases. It will ruin her life," he argued. "All agencies have interrogated her and she has no more required for any purpose whatsoever."
Public relations guru and former model Frieha Altaf says Ali has since become the topic of conversation in the country's fashion circles.
"Some are unkind because they are jealous-everyone complains about the beautiful people," she said.
Officials from Ali's prison deny the supermodel is receiving special privileges. She has also been denied bail.
Now, we want to hear from you! Would like to share your opinion or make a comment on the Unlock Your Wealth Radio Show? If so, then please leave your comment or questions in the space provided below and share this article with your friends and family on Facebook and Twitter. Your comments or question could be chosen as our featured Money Question Monday and a phone call by financial expert Heather Wagenhals could dial your way to be live on the Unlock Your Wealth Radio Show.