Fight Fraud with Remote Control for Credit Cards
May 5, 2014
Your credit and debit cards are always active and so is the opportunity for a criminal attack on your credit. Once your card is stolen or hacked it can be used to purchase items thousands of miles away, even if your cards remain in your wallet. Wouldn't it be nice to deactivate or turn these cards off when you're not using them?
According to Today Show, Ondot Systems, a software company in San Jose, California, just unveiled a mobile app that lets you do that with a single touch of the screen. With CardControl, you can lock the card until you want to use it. When you're ready to make a purchase or withdraw cash from an ATM, just slide your finger across the screen and instantly activate the card.
"We created a way to let people use their mobile phone as a remote control for their existing credit and debit cards," said Vaduvur Bharghavan, Ondot's CEO and founder.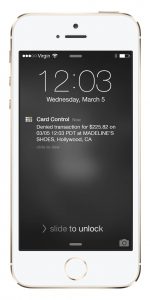 CardControl is more than a simple on/off switch. It's a way to let cardholders decide when and where their cards can or cannot be used, based on a series of preference screens.
"We allow the user to customize the use of the card to the degree they want to," said Rachna Ahlawat, Ondot's executive vice president. "While the back-end technology is quite complicated, the user interface is very simple. All the operations in the app are just one tap away."
Various screens let you:
Block specific types of transactions, such as an ATM withdrawal, online purchase, cash advance or transfer of funds.
Stop transactions at certain types of merchants. For instance, you could specify that it couldn't be used at gas stations or restaurants.
Limit the geographic area where the card will work. You can pick a region on the map such as your city, country or state. Or choose "active around me," which correlates the location of your phone with the merchant. If the two don't match, the transaction won't be authorized.
Limit the dollar amount of any single transaction.
The app is designed to give the primary user the same control over secondary cards — enabling parents and businesses to limit where those cards can be used and also to see purchases in real time.
"I think this is a brilliant way for people to help protect themselves against card fraud," said Gerri Detweiler, director of consumer education at Credit.com. "Even though the customer isn't typically responsible for fraudulent charges, it's a huge hassle when you're dealing with fraud."
Many banks make it possible to set up alerts that can warn of possible fraud. But Avivah Litan, a fraud analyst at Gartner Research, says the ability to turn the card off or limit where it can be used is far better than an alert that you receive after the fact.
"This definitely gives the consumer the power they deserve to control their account," Litan said.
If you had this app and your card were lost or stolen — or you heard about a breach on the news — you could turn the card off immediately until you had time to contact your financial institution and figure things out. This could help reduce your chances of being victimized.
The rollout begins
Ondot won't offer CardControl to the public. It will sell the app to financial institutions, card issuers and processors who can offer it as an added feature to their cardholders.
What's in it for the banks? They hope it will cut their fraud losses and get people to use their cards when they reach in their wallet.
The company says it has partnered with four of the seven major credit card processors, which handle transactions for 10,000 banks and credit unions across the country. The only partner named so far is CO-OP Financial Services, a card processor for credit unions.
BECU, the fourth-largest credit union in the country, headquartered in Tukwila, Washington, will begin testing CardControl this summer with debit card customers.
"People know how they use their card and how they want it to be managed," said Tom Tyson, BECU's digital channel manager. "This gives them a way to take action without contacting us."
Tyson said the company has heard from members who don't use their debit card because they are worried about the risk of fraud.
"This can return the convenience of the debit card and give them a sense of confidence that wasn't there before," he said. "It's such a simple solution to such a big problem that we can easily put in everyone's hands."
Lone Star National Bank in southern Texas has offered the original version of CardControl — an app with a simple on/off switch — to its debit card customers for about a year now. Kevin Pilgrim, chief information officer, said customers have been quick to adopt it, which has been good for the bank.
"It not only lowered our cost of mitigating fraud, but our customers now feel more empowered, so they use their debit cards more," Pilgrim said.
During that period, fraud losses dropped 60 percent and debit card usage increased by 54 percent. That's good for the bank, since it makes a little money through a processing fee every time the card is used.
The start of something new
Mobile devices are rapidly becoming remote controls for various aspects of our lives, so why not leverage this mobility to control our payment cards? It seems like a natural fit.
But are there downsides? What if your cards are locked and you lose your smartphone or the battery dies or you're in an area with no cell reception?
"These are the early days and there needs to be a lot of testing," said Pradeep Moudgal, an analyst with the Mercator Advisory Group. "People have to get comfortable with this technology and use it, but eventually systems like this will provide greater flexibility for consumers and help them manage the cards in their wallet in a better way."
Now, we want to hear from you! Would like to share your opinion or make a comment on the Unlock Your Wealth Radio Show? If so, then please leave your comment or questions in the space provided below and share this article with your friends and family on Facebook and Twitter. Your comments or question could be chosen as our featured Money Question Monday and a phone call by financial expert Heather Wagenhals could dial your way to be live on the Unlock Your Wealth Radio Show.
Source: Today Show